What is this?
DynPage allows you to edit Websites online and make pieces of contents editable with a comfortable editor. DynPage implements the CKeditor - one of the best Internet editors. The integration of content into the HTML pages can be done with Ajax/Javascript or PHP - so you can also handle cross domain sites. DynPage is written in PHP and does not require MySQL database. It's easy to install and to configurate.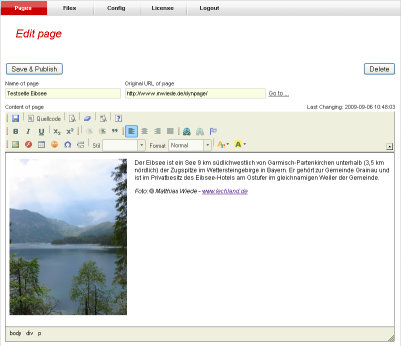 Download and Configuration
Note: Your Webserver must support PHP (4 or higher).
1. Download DynPage: dynpage.zip or dynpage.tar.gz.
2. Unzip dynpage.zip into the home directory of your Website.
After that in your Website exists the sub directories dynpage and dynpage_upload.

/MyWebsite
/dynpage
/dynpage_upload
3. Set file write permissions for following directories.
You can set the permissions with your FTP program (CHMOD).
/MyWebsite
/dynpage
/conf777
/content777
/dynpage_upload777
4. Start DynPage with:
http://my-website.com/dynpage
First login:

E-Mail address: admin
Password: admin
If you have problems with the installation, please read FAQ.
For detailed configuration edit file:
dynpage/config_global.inc.php